Couples Thrive Tip Sheet
Monday, March 13, 2017
The blind men and the elephant story.
Three blind men touched different parts of an elephant.
The first blind man said he felt a rope as he touched its tail.
The second blind man said he felt a snake as he touched its trunk.
The third blind man said he felt a tree as he touched its leg.
They began to argue about the elephant's different parts and insisted they were right.
A passersby heard the disagreement and commented, "Well actually you are all right. Each one of you touched different parts of the elephant and felt exactly what you said you did.
Moral of the story: We all have a different ways of looking at the same thing, and all are valid. There is no right or wrong when it comes to our own personal beliefs, experiences and opinions.
So the next time you're fighting with your significant other, remember the elephant story and try a different way of approaching the situation.
Don't fight to "win" or to prove you are right. Instead, seek understanding and know that all experiences are subjective. We interpret things in our own way, style and timing.
Stay curious, ask questions and use empathy in order to feel heard and understand. 
Resolution can only come after accepting the differences between you, not before.
Monday, November 11, 2016
My Personal Manifesto…
Not only do I pride myself on delivering the most exceptional and cutting-edge couples therapy modalities in the Fort Lauderdale area, but I also love provide additional quality products and services to the Couples Thrive community. If you've been a part of our community for some time, then you know I also love adding a bit of personal flair.
After all, I'm not just a therapist and business owner. I'm a wife and mother, too. I have personal and family struggles of my own. And it's important to me that I present an accurate depiction of my life so that you feel truly connected to me.
So here's my personal manifesto that gives you another glimpse into my life, and hopefully an uplifting message to take with you.
I encourage you all to write your own personal manifesto. It's truly inspirational!
My first thought when I wake up in the morning is "I need coffee NOW in order to be the loving, fun and inspirational mother that I strive to be to my son, Oliver."
And after that, "I need MORE coffee if I'm ever gonna get this right!"
My heart glows when I'm able to help my clients achieve thriving relationships and my heart breaks when I see individuals doubt themselves and not live up to their full potential.
When my clients can trust me enough to share their most intimate life experiences, tender vulnerabilities and deepest longings with me, I feel deeply moved, privileged and honored for the work I do.
In my world, self-acceptance is an absolute necessity. To love yourself means being able to have happy and satisfying relationships with others.
Wine and cheese- any day of the week- is always a fabulous idea.
Disney portrayals of "happily-ever-after" are overrated, yet giving up on finding true love is a definite NO.
Striving for unconditional love is at the core of who we are as human beings.
And at the end of the day, cozying up to my husband and feeling truly cared for and wanted is all that really matters.
Monday, October 17, 2016
Communication can be the biggest hurdle to cross in a relationship. Emotions run high when communication becomes difficult. It's like a road block that can't be passed.
Instead of speaking from the heart, we use our words to speak our mind. And in an effort to feel heard and understood, we often say hurtful things instead.
Find ways to stay calm, take a moment to breathe and learn how to find common ground. Become "conflict masters" by using the suggestions below.
When you feel yourself getting getting angry, take a break. The magic number to cool down, check yourself and be able to talk kindly to one another is 20 minutes. That's all it takes for our bodies physiological arousal to steady itself and get back to baseline. We can't speak fairly when we are in "fight or flight" mode. The ability to process information becomes skewed and we aren't able to hear what's being said. Instead of spinning your wheels, you can say something like, "This is getting nowhere and I'm flooded. Let's take a break and try discussing this when we've cooled down." Do something productive during those 20 minutes. Don't use it as an opportunity to stew and build the anger for continued combat. Go for a run, listen to some music, do the dishes- whatever gets you to calm down.
Avoid the 4 most destructive communication patterns. Stonewalling, contempt, criticism and defensiveness only escalate the situation.
Try a gentle startup. The first 3 minutes of a conversation determines how it will end, so try speaking from the heart. Here's an example: "I really want to understand where you're coming from, but the other night threw me for a loop. Can we talk?"
Don't interject. Take equal turns saying how you feel and listening to what your partner's trying say. Respond using their words and ask for clarification so you know where your significant other stands.
Express empathy. Empathy is a game changer. It allows for your spouse to feel heard, understood and listened to.
Find some common ground. The truth is, the majority of our conflicts are perpetual. It may take on different forms, but the underlying fight is the same. Instead of trying to change your partner's perspective or fight for your stance on the issue, find ways to appreciate your differences. When you know you've found a meeting of the minds, you begin to say things like, "I don't agree but respect your opinion. How can we meet halfway?" "I understand where you're coming from." "I never saw it that way before but I see how important this is to you."
Happy couples fight too, but the key difference is in HOW they fight. The goal isn't to get your point across to be right, it's to listen, empathize and appreciate each other's individual perspectives.
Monday, October 3, 2016
Habits are easy to form, yet hard to break. Ditching unhealthy family habits and creating ones that foster connection and communication is a MUST for keeping your friendship strong and intimacy alive.
Below are some habits that you may not have realized are bad for your relationship, and ideas of healthy habits to form instead.
Running late in the mornings and forgetting to say goodbye. This might sound like a no-brainer, but many couples neglect the small "manners". Remember to say good morning, wish each other a happy day ahead and reunite at the end of the day with a passionate embrace. Not only do you maintain affection, but you let your spouse feel respected and appreciated by you.
Not communicating throughout the day. I get it. You're busy. Or it slips your mind to keep one another abreast of what's going on throughout the day. By remembering to send a text of, "Hey, how's your day going?" "Oh my gosh you won't believe what just happened to me!" Or maybe it's a quick phone call around the same time everyday just to check in. These are important ways of maintaining a feeling of strong friendship.
Not eating dinner together as a family. The majority of American households eat dinner in front of the television. Building a strong sense of family life entails spending quality time together- with your kids and each other. Make it a point to eat dinner together at least 5 times a week, pray together or go around and share 3 things you're grateful for. These kinds of "rituals" create a family personality that's all your own.
Crashing at the end of the day in separate rooms of the house to watch your favorite TV show. Alone time is a blessing, especially when you've dealt with coworkers and kids all day long. But this type of unhealthy pattern leads to a decline in intimacy and romance. Instead of isolating yourselves, spend 15 minutes connecting at the end of the day. Whether it's over a glass of wine, a brandy on the patio or a cozy place on the couch, these moments keep your relationship going strong.
Having separate hobbies. You don't have to do EVERYTHING together, but a happy marriage means sharing common interests you can enjoy alongside one another. When you become empty nesters, you're going to need things like scuba diving, bike riding or monthly wine tastings to get you through the latter part of marriage.
Your relationship is your top priority, and by making small, daily habits a part of your lives means that you're taking the time and effort to foster what's important and keep your marriage going strong.
Tuesday, September 6, 2016
You probably didn't know, but I'm a big-time foodie and home cook. I absolutely love being in the kitchen; it's my happy place.
As we gear up for the holidays ahead, I wanted to share 5 easy-to-make family recipes that are sure to make your sweetie drool (mine does!). Better yet, make them together.
Dearest's (my grandma) Butter Tarts (when my mom would bake these, I remember coming home from school and smelling butter and sugar in the air. It was an amazing smell to come home to.)
1 cup walnuts
1/2 cup butter
1 cup brown sugar
1 cup corn syrup
1/2 tsp salt
1 tsp vanilla
2 eggs, lightly beaten
Pastry dough (store bought in refrigerated section)
Add all ingredients above into a mixing bowl and mix well. Let stand while you make the cutouts for the dough.Roll the pastry dough until it stretches to about 1/3 more. Use a coffee mug to cut out as many round holes as you can. Fill muffin tin with pastry. Add the mixture of ingredients to a 1/3 of the way up. Bake in a 450 degree preheated oven for 10 minutes. Then, reduce the oven temperature to 350 degrees and bake for an additional 5 minutes or until pastry is golden brown. Cool before serving.
2. White Cheddar Cheese Log (found by me in an old recipe magazine years ago. Tweaked it to my liking and now mom, mother-in-law and sister make it every year!)
8 oz. package of cream cheese
4 ounces of aged white cheddar cheese, shredded
1/4 cup of butter
1tbsp. half and half
1 tsp. Worcestershire sauce (my addition!)
1/3 cup finely chopped pecans
1/4 cup chopped green onions
2/3 cup chopped italian parsley, toasted pecans and green onions.
Let cream cheese and butter stand until room temp. Add half and half and worcestershire sauce. Beat with an electric mixer until fluffy. Stir 1/2 cup of chopped pecans and 1/4 cup chopped green onions into the mixture. Cover and freeze for 15 to 20 min. until mixture hardens enough to handle. Shape mixture into a log and chill the log for 4 to 24 hours. When ready to serve, roll cheese log in 2/3 cup parsley, pecans and green onions.
Serve with assorted crackers and thin green apple slices.
3. A Friend of a Friend's Pecan Bars Adapted (I made this recipe for my husband's holiday bake competition at work and it won 2nd overall!!!) 
Crust
1 cup of flour
1/3 cup of light brown sugar
1/4 cup pecans, toasted and chopped
1 tsp. salt
1/4 tsp baking powder
6 tbsp. unsalted butter
Pecan Filling
1/2 cup packed light brown sugar
1/3 cup light corn syrup
4 tbsp. unsalted butter, melted
1 tbsp dark rum or brandy (omit for those who don't drink)
2 tsp. vanilla extract
1/2 tsp. salt
1 egg, beaten
2 cups pecans, toasted and chopped
To make the crust:
Heat oven to 350 degrees. Use an 8 in. square baking pan to line the bottom with aluminum foil, allowing extra foil to hang over the edges. Lightly coat the pan with cooking spray. Process the flour, brown sugar, pecans, salt and baking powder in a food processor until the mixture resembles course cornmeal. Add the butter and pulse until the mixture resembles sand. Pat the mixture into the pan and bake for about 20 minutes. While the crust bakes, whisk the brown sugar, corn syrup, melted butter, bourbon, vanilla and salt together in a medium bowl. Whisk in the egg. Pour the filling on top of the hot crust and sprinkle pecans over the top. Bake until top is brown about 22 to 25 min. Once cooled, cut bars into equal portions.
4. Butternut Squash Soup (one of my favorite comfort foods. You can add so many adaptations like rosemary, chopped bacon and creme fresh)
2 large granny smith apples (cored, peeled, course chopped)
1 large sweet onion chopped
1-2 cloves of garlic, minced
1 tbsp. of chopped rosemary
2 tbsp. of olive oil
1-2 lb. of butternut squash
1 box of chicken or vegetable broth
1 tbsp. curry powder
1 tbsp. brown sugar
3/4 tsp. cumin
1/4 tsp. cayenne pepper (omit if you don't like a little kick)
Saute first 5 ingredients in heavy soup pot until tender. Put the remaining ingredients in the same pot, use enough broth to cover the squash and add salt and pepper to taste. Cover on low heat to simmer. When squash is soft, put in blender and puree until smooth (you may need to add additional stock to the blender for the right consistency. It should be thick and creamy).
5. Peanut Butter Cake with Peanut Butter Frosting (this one's great for Halloween decorated on top with plastic spiderwebs and skulls)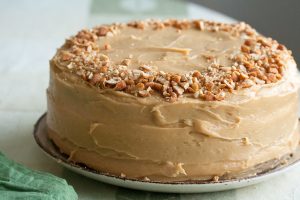 2 eggs
1/2 cup of butter, softened
1 1/4 cups sugar
2 cups of flour
1 tsp. baking soda
1/2 tsp. baking powder
1/4 tsp. salt
1/2 cups of whole milk
1 tsp. vanilla extract
1/2 cup of peanut butter (smooth)
3/4 cup of toasted coconut (optional)
Combine butter and sugar and heat until creamy. Blend in softened peanut butter. Beat in eggs and vanilla. Combine flour, baking soda, baking powder and salt. Alternately blend in the flour mixture and milk. Bake in a preheated oven at 350 degrees until done (you'll know by sticking a toothpick down the center. It should come out clean). Let cool before frosting the cake.
Peanut Butter Frosting
1 cup of smooth peanut butter
8 oz. cream cheese softened
3 cups of sifted powdered sugar
2 tbsp. milk
1 tsp. vanilla
1/8 tsp. salt
Melt peanut butter over hot water (in a double boiler…or microwave will also work if you don't have the boiler). Stir until smooth. Combine the peanut butter, cream cheese, vanilla and salt. Beat well. Beat in powdered sugar alternately with milk until mixture is of spreading consistency. Frost cake with peanut butter frosting.
Monday, August 22, 2016
When Phelps is interviewed about his training regime, he humbly shares that it's an everyday battle. That, even to the legendary swimmer, it doesn't come easy. He says it takes hard work, determination and a commitment to being the best swimmer of all time.
There might be something superhuman in Michael Phelps genes that contributes to his stardom, but as he states, that's not all it takes to win the most Olympic medals in history.
How can we take some influence from Phelps and work at being an Olympian in marriage? Here's my best marriage advice to get you striving for Gold!
Marriage isn't a choice; it's a lifetime commitment. It has to be a commitment that you make to each other every single day. There can be no "off" days where you feel like you want to give up. Sure, there are days that are less glamorous than others and ones that can really knock you down, but rest-assured that even the best couples go through rocky times. Those days can, and will, pass, however. Here's one of my favorite quotes to remember: "a strong relationship requires choosing to love each other in those moments when you struggle to like each other."
 Display empathy-all day, everyday. Think of empathy as the Michael Phelps training plan. It's a surefire bet that you'll be headed for the win. The most important thing that people want out of their relationship is to feel heard and understood. Empathy sends the message, "You understand. You get me AND you care." (For a list of 44 empathy statements, go here).
Small things everyday has the biggest impact for relationship satisfaction. When you make small gestures daily to improve your marriage, you're working towards lasting change. Efforts like expressing appreciation and gratitude, thinking like a set of "we" instead of "me" and re-connecting at the end of the day does a world of good for keeping your friendship and relationship close and steady. Daily reminders that you have the best intentions for your spouse and letting them know it through your actions has long-lasting impact.
Turn into each other instead of away from each other. Notice the everyday attempts that are made towards meeting eye-to-eye. We're constantly reaching out for connection, reaction and validation from our significant others. Sometimes it's subtle ("Hey, look at that sunset!") or explicit ("Stay with me awhile, would you?"). Take the time to notice when your spouse is vying for your attention and respond to it in the moment with enthusiasm.
Raise arguments gently to avoid escalation. When something is bothering you, don't wait to bring it up. Built-up resentment causes hostile communication later on. Avoid the 4 horseman and learn self-soothing techniques in case you need a break.
Olympic medalists might make it LOOK easy, but make no mistake that they work everyday all year-round to perfect their craft. Think of your marriage in the same way- with fervor, patience, determination and focus.
Monday, August 8, 2016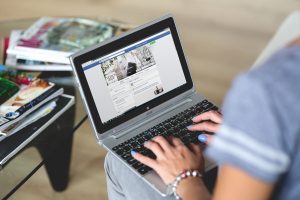 Do you do this? Because I do, and then I have to seriously check myself. You're scrolling through Instagram and you see a friend post their recent kitchen renovation with all the latest appliances and marble counter tops. Another friend posts smiling photos of them and their significant other traveling to exotic places every other month it seems.
And as you're scrolling, jealousy and envy begins to set in. You start thinking about the recent argument you had with partner or the mundane relationship rut you've been feeling lately. You start to compare your relationship to the so-called "happy ones" you see on social media, and notice how vastly different it is from yours.
The battle of comparisons can easily take over and put us in a relationship funk. A feeling of inadequacy emerges and it seeps in to our home life. We can easily pick apart all that's wrong instead of things we should be truly grateful for.
You see, when you really stop to think about it, you know full well that Instagram, Facebook and Twitter only illuminates a small part of the pie and rarely paints the full picture. You might not know that the couple that just upgraded their kitchen to make a chef drool may have maxed out their credit card in order to do it. And what isn't posted on their social media accounts are the subsequent fights about money and how they're going to pay it all back. The couple that posts happily about their lavish lifestyle and fun vacations certainly wouldn't let the world know that they too fight and the jet setting may be fueled by an intense fear that things could crumble beneath them at any given moment.
Instead of playing the comparison game, put things into perspective and take a moment to self reflect. Finding gratitude in your marriage helps reveal that there are many aspects to be thankful for, as well as the reality that every couple has conflict and goes through periods of unhappiness. Here's 3 ways to stop comparing your relationship and start focusing on improving yours for the better.
Keep a gratitude journal and add two things that you're thankful for each day. Make it simple and post it in your notes section on your phone. Are you and your spouse actively saving to buy a house because you don't want to purchase something that's out of your price range so you'll be house poor? That's something to be extremely proud of. Amongst the fighting, have you found moments where things are peaceful and you can laugh and be affectionate with one another? Focus on the moments of happiness instead. On any old mundane weekday, can you get excited about watching your favorite TV show together? Not many couples can say they have something small, yet meaningful in common. When social media overshadows the real world, take a look at your gratitude journal and remember that your life is yours, and is meant to be praised.
Express appreciation. Not only should you jot down your list of grateful moments in life, but you should also outwardly express them. We often have wonderful thoughts about our significant others but don't tell them how much we appreciate all that they do. Make sure you take time to let them know, for they yearn to hear it.
Give back in some way. Did you know that giving to others- whether donating your time or saving money to invest in an organization that you're passionate about- helps us feel more grateful about our own lives? Giving to others oftentimes makes us feel better about relationships and ourselves. What's even better? Donate your time to a charity that you and your spouse can do together. It boosts the feeling of thankfulness within your relationship.
It's easy to scroll through social media and desire what others have and you don't. But the reality is that those friends may be struggling too. You never know what goes on behind closed doors and instead of looking out the windows wishing for something else, take a peek inside your own home and find moments of gratefulness.
Monday, August 1, 2016


They key to rocking your relationship with pizzaz isn't by wishing it was like that Romance novel you just read. Instead, it's by embracing the small, everyday moments of life- or to put it more bluntly- the 10,000 average, mundane Tuesdays you'll spend together in your lifetime.
Read below for the 3 ways to ACE at your relationship:
An epic friendship.Think about being stuck at an unfamiliar airport in a foreign city with an 8-hr delay. You were exhausted from you trip so you checked your laptop because you wanted to get some sleep during the flight. Your cell phone battery is at 10%. Who would you want by your side to pass the time? Your partner should be that person who makes the long, postponed flight more light-hearted, fun and a chance to make a potentially bad experience one of your highlight memories. An epic friendship with your partner entails:
Good banter back and forth. Ease of conversation and a relatively similar sense of humor are key.
Fun. You'll want a partner who can make moments of stress more lighthearted and who genuinely makes you laugh. No one wants to spend the rest of their laugh fake-laughing.
Respect for each other's ideas and ways of thinking. If you don't feel like your opinions or thoughts on certain topics are respected, you're going to hold back information and omit from sharing. A great friend is excited to hear what you have to say and wants to know more.
Common interests. This is the catalyst for mundane Tuesdays. When life gets boring, you'll want something that you can have a "meeting of the minds" on. Whether it's theatre, museums, sports or hobbies, make sure you have something in common to combat the drudgery.
A sense of deep comfort and ease. Being in your partner's company should make you feel good inside. An "at home" feeling should make you feel safe, cozy, peaceful and utterly yourself. If there's constant tension in the air, your relationship can become a permanent source of unhappiness and discomfort. To get that sense of comfort and ease, you'll need to have these things in place.

A generally positive vibe. Sure, you'll have your disagreements and feel frustrated at times. But overall, your relationship should be more positive than negative. According to research, there should be 5 positive interactions to 1 negative interaction.
Trust. Secrets can erode a relationship and the constant agony of having to worry about hiding or sneaking around is draining. Who wants to do that for 50 years of marriage, anyway? Conversely, on the side of secrets is suspicion. A vibe that directly clashes with the feeling of "comfort and ease." If you have things you're hiding from your partner, it's best to bring it out in the open in hopes of working through it.
Acceptance. We're all flawed to some degree. How much would it suck to be criticized or shamed for who are you by the person who's supposed to adore you the most? You can't change those ingrained "ways of being" about your partner, so make sure you know how to be accepting of them.

A willingness to fight for a good relationship. Relationships are hard work. Compromise and sharing half of yourself to someone else takes time to adjust. You have to WORK at marriage. It doesn't come naturally or easy- even to the strongest of couples. Here's what you need to have a healthy and positive relationship:

Good communication. Divorced couples who were polled about their failed relationships said that the one thing they would change about moving forward with someone else would be better communication. Communicating fairly and positively doesn't come easy. Oftentimes, couples need to have pre-planned ways of communicating when navigating through rough waters or need to seek couples counseling to learn how to communicate better.
Feeling like equal partners. Couples who actively or passively try to assert their power as head of the relationship is in trouble. When the bad mood of one partner affects the mood dynamic of the relationship or when one's needs consistently prevail of another's, you've got a problem. Feeling like you're an equal casts a positive glow over the relationship as a whole.
Fighting fair. Conflict is inevitable and happens in every relationship. Being able to fight fair distinguishes successful couples from unsuccessful ones. Being able to be flexible, bend for your partner's benefit and finding compromise are healthy forms of being able to handle conflict effectively. Couples who realize that most fights are perpetual anyway aren't looking for change, they're looking to better manage the moments of feeling "stuck" and frustrated instead.
Monday, July, 25 2016
My husband and I had tickets to one of our favorite band's concerts the other day and the trusted grandparents, aka babysitters, weren't available. We decided to be brave and hire our very first babysitter- and let me tell you- it was a tough decision!
After a scary car ride discussing all that could go wrong when hiring someone outside the family to watch our little guy, we ended up having a great time overall and Oliver seemed not bothered in the least… but $80 in babysitting fees later, I got to thinking. Either I should have a side business in babysitting (I'd be rich!), we don't ever let the grandparents say NO ever again or we have date night in.
Having a fun date night doesn't have to mean going out and spending a ton of money. You can have fun, connect, laugh and create lasting memories right in the comfort of your own home (Want more creative date ideas? Here's 21 more!).
Here's a list of creative date ideas in your most comfortable attire…your PJ's!